Leila Dear
Clay Prism
pigment on hemp paper
40 x 54 cm
2022
Vorta
pigment on hemp paper
40 x 54 cm
2022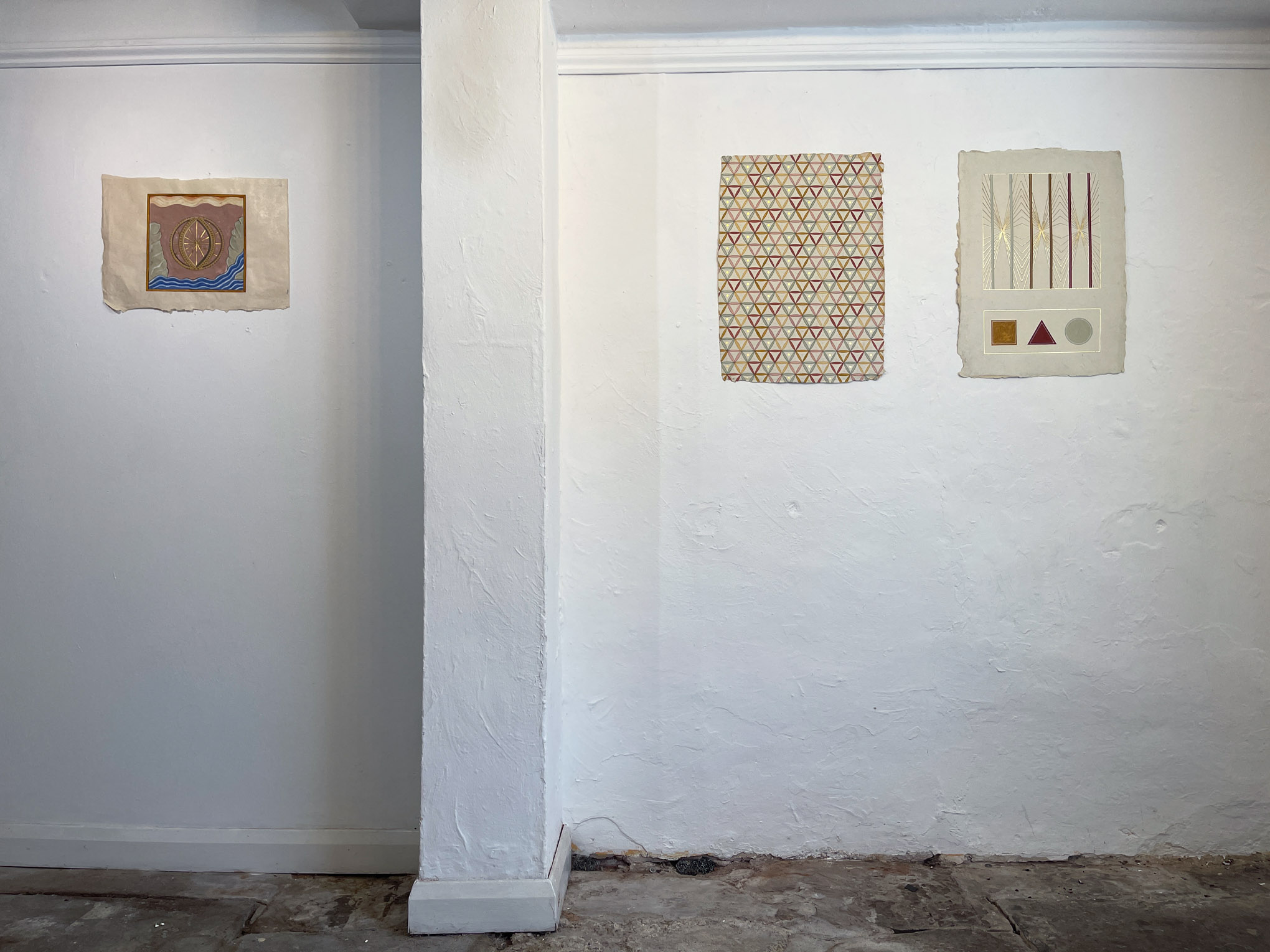 Ophanim
pigment on hemp paper
40 x 54 cm
2022
Three Hares
pigment on hemp paper
40 x 54 cm
2022
Sengai
pigment on hemp paper
40 x 54 cm
2022
Cuthbert
pigment on hemp paper
40 x 54 cm
2022
Drift
pigment on hemp paper
40 x 54 cm
2022
Oloids
gesso and 3D print
dimensions variable
2022
Triquetra - Meditations on optics, cave colours, and trinal geometry.
A series of paintings exploring traditional techniques of geometric proportion and symbolism, the works are made using hand prepared pigments on sanganer hemp paper. The pigments in most of the pieces originate from earth colours found in the cave systems of the Forest of Dean, that have been mined for ritual use for over 4000 years. 'Clay Prism' explores the rich variety of earth pigments, created by Iron and its interaction with water as a fundamental force, across a gradient ranging from red to green. Gold leaf also features heavily in the pieces in contrast to the changing, mutable quality of the earth pigments. Gold is found scattered throughout the planet since being ejected by a distant supernova, yet remains unaffected by any earthly forces retaining its stability and lustre.  
The motifs explored in the works range from visualising the structure of goethean light experiments to three-fold geometric symbols common to Celtic, Islamic art and Hindu Yantra. The Three Hares motif is an example of a geometric pattern used in these paintings, that appears in sacred and folk art from Buddhist China, through Iran and to the churches of southern Cornwall. These geometries, revered as sacred throughout the world, reveal an underlying connection throughout humanity regardless of distance, either geographically, culturally or across time. 
Instructions for CHAMBER X: Leila Dear is an artist and educator whose multidisciplinary practice looks at ways of engaging with the structures of the natural world. Often working with geometric techniques from the Islamic tradition and elemental phenomena such as pure vibration, she explores commonalities between art and science and ideas of a beyond human, natural, intelligence.  
Grounded in a research practice that reads science fiction alongside scripture, feminist histories, cybernetics, and design science, her work seeks to cultivate an embodied understanding of nature's patterns, kinship and transcendence of individual perspective.